Structure of the Associations
Student associations are there to serve you! They fulfill many roles, including the defense of your academic rights, the animation of student life and the representation of your socio-political interests.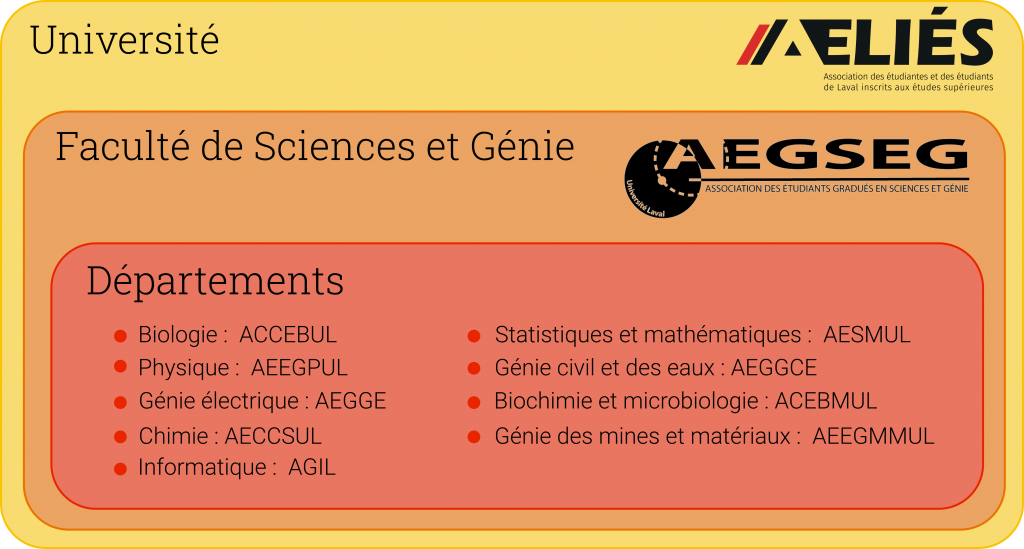 TheAELIÉS is the campus association for all graduate students at Laval University. Among its many activities, we can note in particular the editorial retreats, the conferences of its Public Research Chair and Néo, the popularization competition. She is also responsible for the student café Le Fou AELIÉS located at the Alphonse-Desjardins pavilion. In addition, AELIÉS employs a student rights officer who can assist you with academic problems (droits@aelies.ulaval.ca).
L'AEGSEG is the faculty association for graduate students in science and engineering. It represents the students to the Dean's Office and sits on the various Faculty committees. It also organizes activities such as Les Journées de la Recherche en Sciences et Génie (JRSG), which highlight research carried out by its members and offers individual grants and sponsorships to associations to support the participation or organization of events by its members.
Les departmental associations ensure the representation of students in the department and the animation of student life within it. Their activities may vary depending on the association, do not hesitate to contact them to learn more.
How the AEGSEG works
The departmental associations elect representatives who will sit on the administration board (CA) of the AEGSEG. The latter, composed of the executive council (CE) and a representative of each departmental association, is responsible for the general management of the association. The CA votes on resolutions and sees to the follow-up of decisions taken by the general assembly.
The CE ensures the day-to-day management of the association and implements the resolutions passed at the general meeting and by the administration board.
The general assembly allows all members to express themselves and vote on the orientations of AEGSEG. It elects the executive council and adopts the budgets and financial statements of the association.